Folding Universal Vinyl Forklift Lift Truck Seat with Safety Switch
Product Detail
Product Tags
1.Rugged: the frame of the tractor seat is made of strong and strong steel. Cushion foam is made of durable and flexible vinyl, which can withstand continuous exposure to water and sunlight.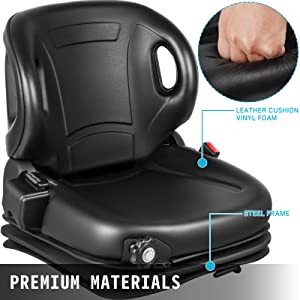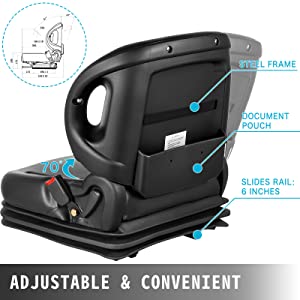 2.Versatility and comfort: the forklift seat is designed with an adjustable 70 ° backrest to make you feel more comfortable , and the rear seat finisher provides convenience for you when changing the angle to fit people with personal body type and increase working efficiency. Smooth but soft leather covered gives you cool feeling in hot summer.
3.Adjustable & Conventent
4.Safety assurance: Excavator seat replacement tractor seat has retractable safety belt and will never trip you. The buffer foam does not even contain a little titanium dioxide to ensure a safe driving environment. A front switch is set in the suspension air cushion to effectively reduce vibration.
Excellent performance: 19.4 "x 19.5" x 23.4 "compact lawnmower seat, ergonomic design, convenient for you to install and remove the seat.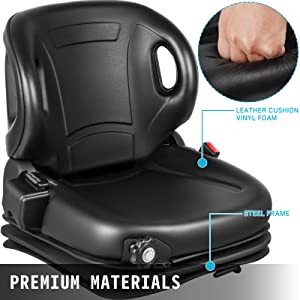 5.General accessories: the seat equipment can be installed on various forklifts of Toyota, which is fully matched with tractor seats, forklift seats, lawn mower seats and even backhoe seats.
6.Cost effectiveness: reliable quality with factory price. The methods of transportation could be decided by the amount you ordered to reduce the transferring fee.
Color
Black
Material
Steel & Vinyl
Angle Adjustment
70°
Sliding Base Adjustment
6 inche
Seat Size
19.4" x 19.5" x 23.4" (L/ W/ H)
With Suspension Cushion for Reducing Vibration
The universal equipment seat can be installed on forklifts of a variety of Toyota seats, ranging from vehicles like Toyota mowers, excavators, wheel loaders, dozers, backhoes, tractors, etc.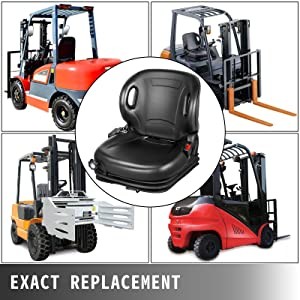 ---
Previous:
Orthopedic Cervical Memory Foam Pillow
---