Rear Shock Absorber Bump Stop Buffer Stop Block Shock Absorber For BMW OE 3133 6767 333
Product Detail
Product Tags
Feature
Premium Material: These car buffers shock absorber were made of excellent urethane rubber which features flexible, water-proof, abrasion resistant, good heat and cold resistance. It has great flexibility and will not crack or deteriorate after long-term use.
Enhancing Stability: The buffer rubber has specially designed buffer hole inside to disperse the impact force in all directions. The shock absorbing performance is obviously improved. Thereby improving driving comfort, braking efficiency, steering stability and reducing vibration and noise during driving.
(1) The shape can be freely determined, and the hardness can be controlled by adjusting the pu, which can meet the requirements for stiffness and strength in all directions;
(2) The internal friction is large, and the shock absorption effect is good, which is conducive to crossing the resonance area and attenuating high-frequency vibration and noise;
(3) The elastic modulus is much smaller than that of metal, which can produce large elastic deformation;
(4) No sliding parts, easy to maintain;
(5) Small quality, easy installation and disassembly.
(6) The impact stiffness is higher than the static stiffness and dynamic stiffness, which is beneficial to impact deformation.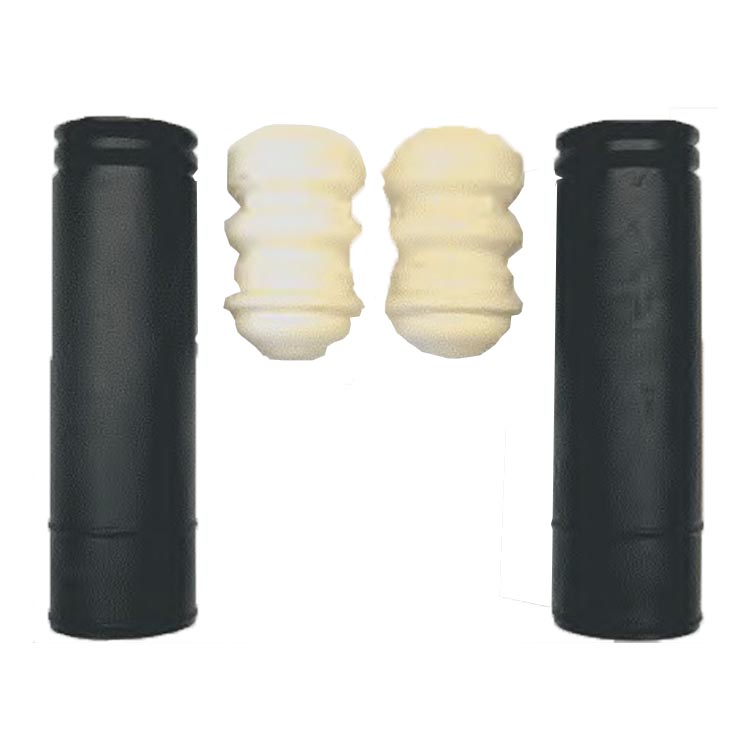 Detail
Dust Boots
The dust cover is used to protect the shock absorber piston rod to keep it smooth/clean at all times, so that the piston rod is not contaminated by dust, and at the same time, it does not allow the oil seal to be eroded by sediment, so as to prevent the oil seal and piston rod from aging and losing the buffer capacity. If the dust jacket is aging and damaged, the shock absorber should be replaced together. If the shock absorber is no problem, the dust jacket should be replaced in time if it is damaged, otherwise the oil seal and piston rod will be corroded and the shock absorber will leak oil.
Buffer Block
When the vehicle is driving on a complex bumpy road, the shock absorbers and the springs will be compressed to the end, and when the body and the suspension system are in contact with steel, there will be violent bumps and abnormal noises, which will affect the driving and riding comfort. At this time, the buffer block will also be stressed due to high pressure, so as to assist the shock absorption and the spring to play a certain role in mitigating characteristics.
Specification
Product Number

900

 049
Warranty
2 year
Car Model
BMW 3 Series 2000-2007
Application
Auto Suspension Parts
Position
Suspension System
Material
PU,PP
Color
White,Black
---
Next:
Polyurethane Shock Absorber Jounce Bump Stops Rubber Shock Absorber Buffer For BMW OE 3133 1094 749
---